CEO FOCUS
>
Regional Offices
>
New York
New York
SETH PATEL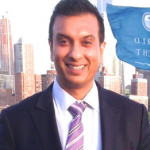 Seth Patel is Founder and Managing Partner of CEO Focus of NYC. He is passionate about maximizing human and organizational performance. He has over two decades of leadership experience and has coached and advised a wide range of clients including large global multinational companies to fast growing start-ups.
Seth draws upon his tremendous energy, rich executive experience, drive for learning and vast network of resources and contacts to create bespoke and customized solutions for his clients. He has worked in several industries, including strategy consulting, investment banking, healthcare, technology, capital markets, and (re)insurance. He has also worked in several countries and brings a broad richness of global perspectives to his clients.
Seth is a graduate of Columbia University Business School, with a focus on Leadership, Strategy, and Management, and is currently pursuing his doctorate in Organizational Performance at the University of Pennsylvania. He has a MS in Finance, MS in Applied Math, MS in Pure Math, and a BS in Bio-Engineering. He is also an adjunct professor at Columbia University and is a frequent speaker at leading international business conferences. He is currently pending certification from the Columbia University Executive Coaching Certification, as well as the International Coach Federation (ICF).
Seth's leadership record, whole-brain thinking style, ability to advise strategically and tactically, experience coaching a wide range of professionals, relentless commitment to learning and collective life experience, makes him an invaluable asset to his clients.
ADDITIONAL SERVICES
While the coaching platform of CEO Focus is peer group (mastermind) facilitation, Patel will also work with company owners/senior managers on specific issues, including:
> Strategic Growth
> Digital & Technology
> Risk Management
> Data & Analytics
> Finance & Capital Management
> Operations
> Talent & Organizational Design
> Innovation & Change Management
> Marketing
> M&A
> Strategic Alignment
CONTACT INFORMATION
Seth Patel
CEO Focus NYC
Managing Partner
Office: +1-917-438-0984
Cell/Text: +1-212-828-4522
Email Seth